About
77 million people

in the US have a criminal record of some kind; these records have created unnecessary barriers in accessing voting, housing, education, employment and more.

Have you had a background check on your criminal history, even if it was just an arrest, and this made it difficult for you to land a job or apartment? An expungement can help you! An expungement removes arrest and non-conviction charges from your criminal record in the state databases. This means your record can no longer be seen by the general public.
JOIN US!
Sept. 28, 2019, from 2-5pm at the UH Law School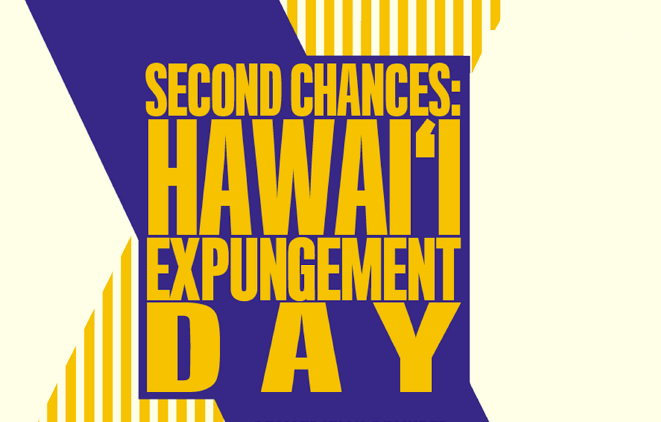 Not sure what an expungement is or if you qualify for help with your criminal arrest or conviction? Check out our information center to learn more and see if you qualify for to have your record cleared or sealed!
Learn More About Expungements!
Think you might qualify for an expungement? Fill out our screening form HERE and one of our legal volunteers will review your case. If you qualify, you will be scheduled for a one on one appointment with a legal volunteer during our expungement event Sept. 28 and they will help you clear your record!
Even if you don't qualify for expungement services, our community partners may be able to help you find other resources! RSVP HERE to attend our event and learn more about expungements and other resources that are available to you if you have a criminal charge or conviction.
Wanna join our amazing justice oriented partners at this event? Contact us to see how you can get help!
Second Chances: Hawai'i Expungement Day is joining the 2nd Annual National Expungement Week (N.E.W.) taking place around the country from September 21-28, 2019 helping those to clear their criminal records! Click on "NEWS" to see other expungement events happening around the country!
Code for America has dedicated its 2019 National Civic Day of Hacking on Sept. 21 to help the national Expungement Week! Find other locations around the country!